We sell properties as individual townhomes or custom-built packages to match your unique investment needs. We can accommodate cash purchases, traditional financing, and 1031 exchanges to meet your investment and return goals.
Buy & Sell your townhome with us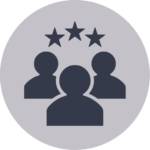 We've been around The Barracks since the first home was built. We know the product and its pricing better than anyone, so we'll ensure you get a fair deal.
Consistent Communication Guaranteed
We'll update you at every step and quickly respond to your questions.
We won't make you sign a buyer representation agreement until an offer is submitted. We want you to be confident in our services before committing to working with us.
Why rent when you can own? Help offset the cost of your Aggie's education by purchasing a Barracks Townhouse instead of renting for four or five years.
Add Turn-Key, cash-flowing investments to your portfolio. Full-Service management and leasing are available on-site through The Barracks Management Group so you can be hands-off your investment.
Currently active listings
Looking for something else? Send us an email using the contact form below or give us a call at 325.513.8220 to see other purchasing options.